Futures positions and changes made by hedge funds across 24 commodity futures during the week to June 9
Saxo Bank publishes two weekly Commitment of Traders reports (COT) covering leveraged fund positions in commodities, bonds and stock index futures. For IMM currency futures and the VIX, we use the broader measure called non-commercial.

The below summary highlights futures positions and changes made by hedge funds across 24 major commodity futures up until last Tuesday, June 9. Appetite for risk remained high that week, not least following the better-than-expected US job report on June 5. The S&P 500 rallied 4.2%, the dollar index lost 1.4% while bond yields jumped. The Bloomberg Commodity Index climbed 1.5% with gains seen across all sectors with the exception of precious metals.
A mixed week in commodities which despite broad price gains did not yield much in terms of major position changes. Crude oil continued to be bought albeit at a much reduced pace, fuel products were sold on rising overhang of stocks while natural gas held steady. Precious metals remained out of favor with the gold and silver longs dropping further while enthusiasm for copper attracted strong buying. Grains, led by corn, continued to be sold while the sugar position flipped back to long. Thereby becoming vulnerable to profit taking after the rally's main engine, crude oil, began looking exhausted.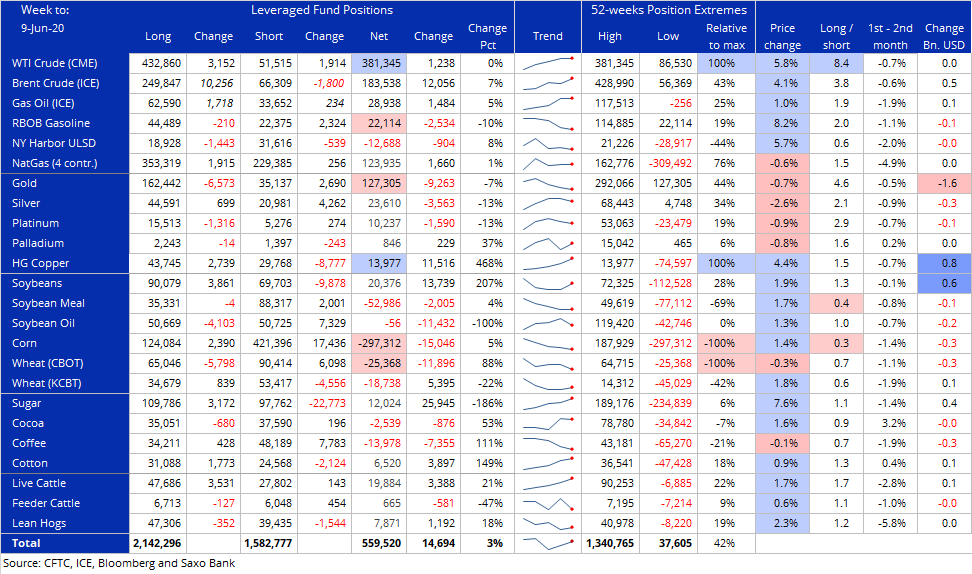 Energy: Buying of crude oil slowed despite another week of strong gains for both WTI and Brent crude oil. WTI saw the smallest amount of buying in this cycle with bullish bets close to a two-year high. Elevated levels of fuel products in the U.S. drove a reduction in the gasoline (RBOB) net-long to a three-year low and a rise in the distillate (ULSD) short to a three-month high.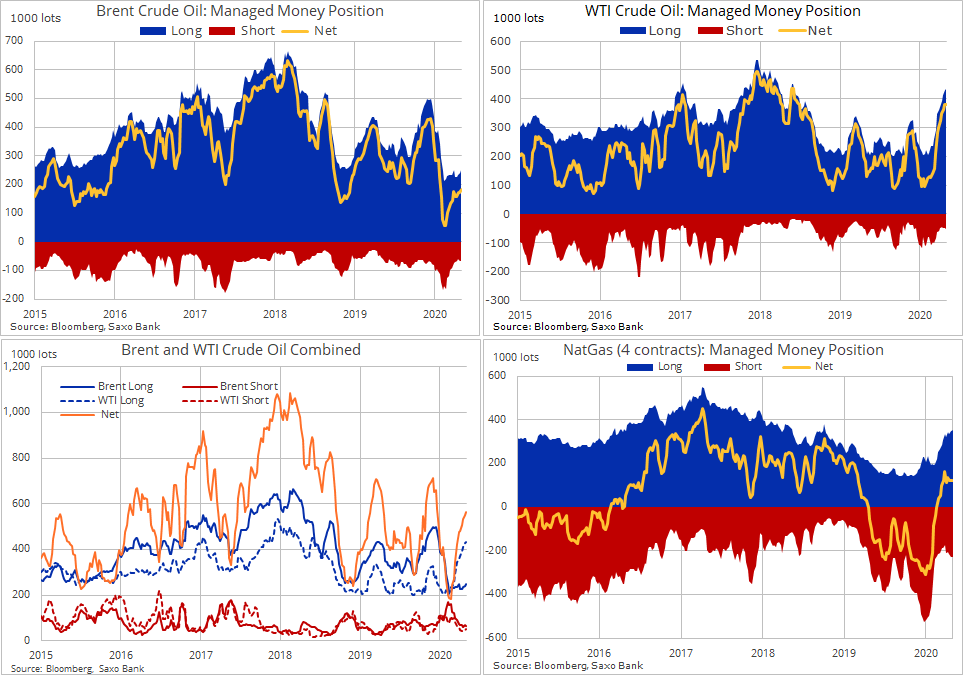 Metals: Gold selling extended into a third week with the net long falling by 9k lots to 127k lots, a one-year low and down 55% since the February peak. Copper meanwhile and as expected attracted additional buying following the technical break above $2.50/lb, a key level of support-turned-resistance since 2017. The near five-fold jump took the net-long to 14k lots, a 15-month high.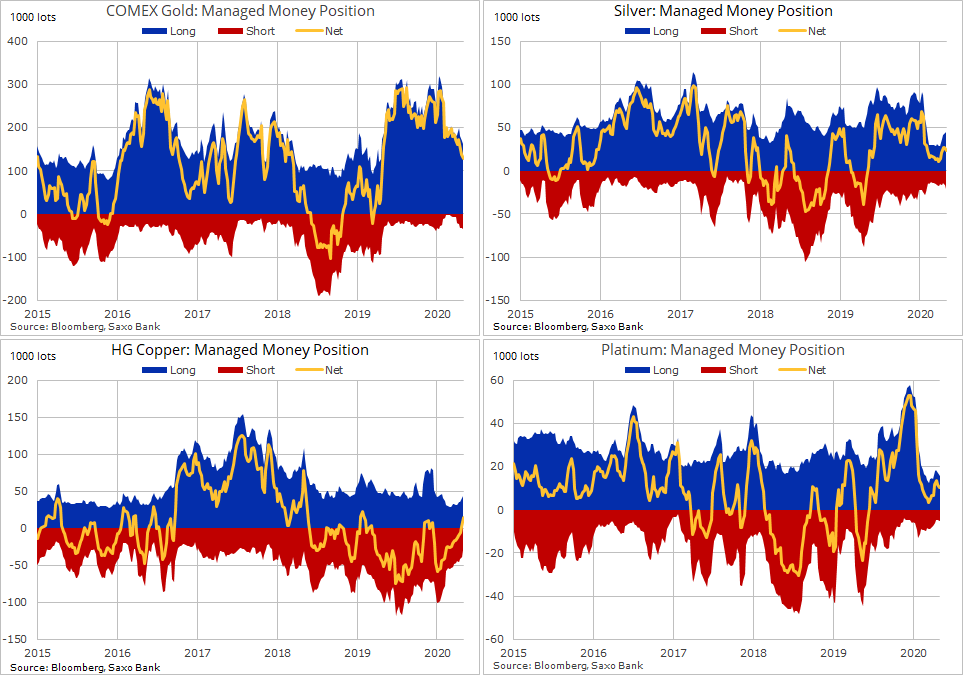 Agriculture: Ahead of Thursday's global supply and demand outlook report from the US Department of Agriculture, the corn short had extended to 297k lots, a 13-month high and biggest seasonal short in at least 20 years. This despite a continued steady recovery in the price. The wheat short jumped by 88% ahead of the WASDE report which pinned global stocks next year at a record high. The soybeans long meanwhile more than doubled on increased Chinese buying.
The soft sector was mixed with the oil-related rally in sugar helped flip the position back to a net long while the Arabica coffee short more than doubled in response the deteriorating technical outlook.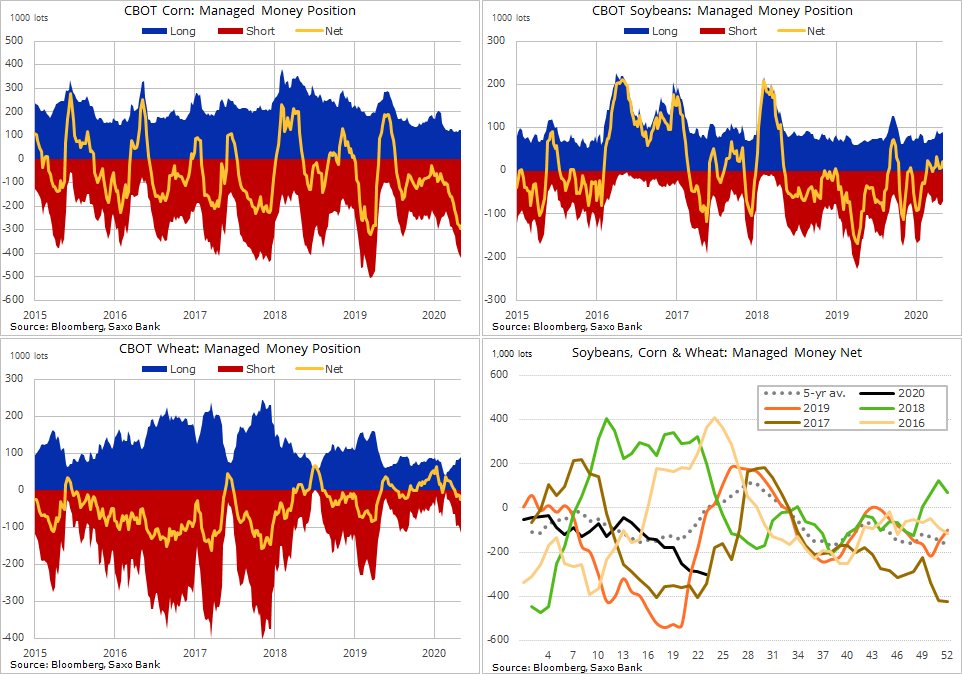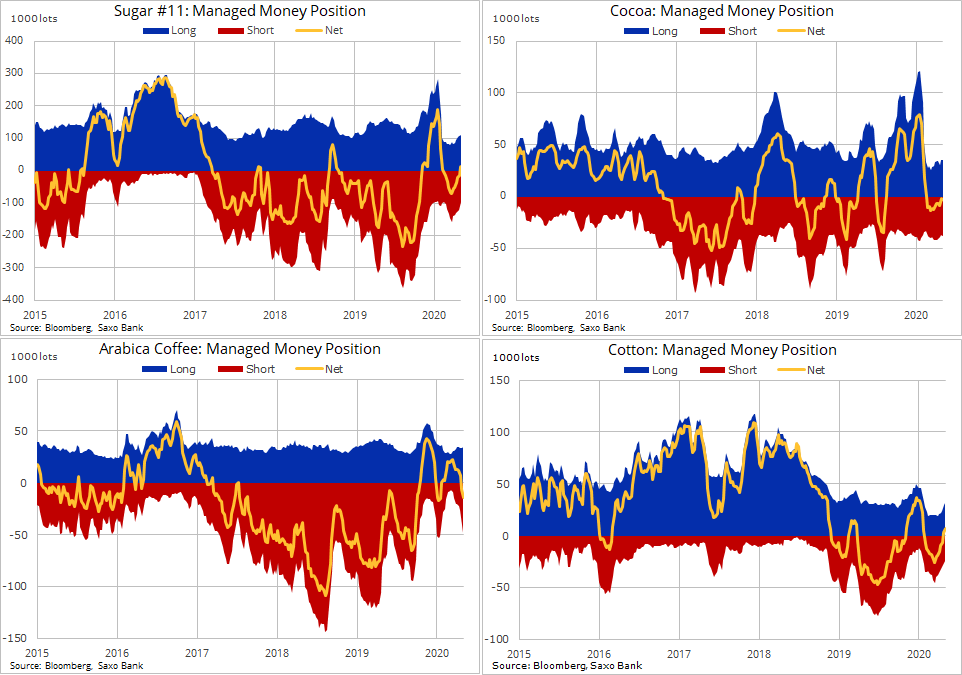 What is the Commitments of Traders report?
The Commitments of Traders (COT) report is issued by the US Commodity Futures Trading Commission (CFTC) every Friday at 15:30 EST with data from the week ending the previous Tuesday. The report breaks down the open interest across major futures markets from bonds, stock index, currencies and commodities. The ICE Futures Europe Exchange issues a similar report, also on Fridays, covering Brent crude oil and gas oil.
In commodities, the open interest is broken into the following categories: Producer/Merchant/Processor/User; Swap Dealers; Managed Money and other.
In financials the categories are Dealer/Intermediary; Asset Manager/Institutional; Managed Money and other.
Our focus is primarily on the behaviour of Managed Money traders such as commodity trading advisors (CTA), commodity pool operators (CPO), and unregistered funds.
They are likely to have tight stops and no underlying exposure that is being hedged. This makes them most reactive to changes in fundamental or technical price developments. It provides views about major trends but also helps to decipher when a reversal is looming.
Topics:
Commodities
COT Commodities
Crude Oil
Natural Gas
Gold
Silver
Copper
Platinum
Corn
Sugar
Coffee
Gasoline
Palladium
Wheat
Cocoa
Cotton
Hogs
Cattle
Energy (Sector)
Futures
Coronavirus